CHIT-CHAT-EAU Episode No. 5: Sage Flowers, Floral Studio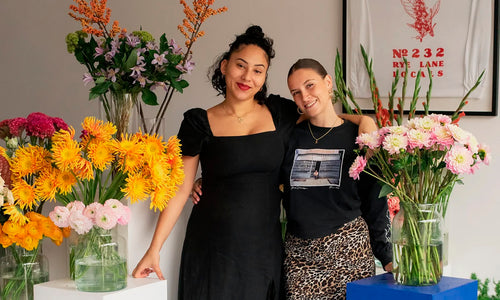 Welcome to CHIT-CHAT-EAU: Chateau Orlando's series of interviews hosted by our Co-Founder and Creative Director Luke Edward Hall.
Our fifth guests are Iona Mathieson and Romy St Clair, the South London-based founders of Sage Flowers. Iona and Romy are revolutionising floristry with their bombastic, flamboyant work. Finding inspiration in unusual flowers, foliage and form, the studio does away with traditional arrangements and the rules of classic floristry. The importance of diversity is key to the duo's practice, as is their love of subcultures.
Learn about Iona and Romy's take on floristry, their favourite South London haunts, and their recently published book, The Art of Starting, below...
Can you tell us about your floral ethos?
Our floral ethos is similar to our company ethos, which has always been accessibility, community, culture. These are the values we hold dear, and we try to evoke the spirit of them in our arrangements. They're for everyone, little pieces of floral art inspired by the culture we're in, given to the community with love. 
Where do you turn to for inspiration?
Tonnes of places, though never other florists' work. We might spend an afternoon going through books about furniture design, looking up old streetwear collections, Googling old rave flyers. Our interest and love of subcultures is always where we end up!
Sage Flowers is about 'combining floristry with design and subculture'. Can you elaborate on how you bring together your various interests with your work?
Yes! This is super important to us. We have monthly team outings to galleries, to see art and design shows we're interested by, we sometimes end up clubbing together, coz there's nothing quite like loud music on a sweaty dance floor to bond a team. We've started a series called SAGE in Situ, where we make floral arrangements inspired by people/friends/artists we love, and shoot them in their studio or place of work. We've shot flowers in Benji B's studio, in Akinola Davies' house, in the showrooms of Time + Space. The series is all about weaving our floral work into the design and subculture we love and admire so much.
I love the unusual shapes and forms of your arrangements. Somehow they remind me of Constance Spry and her revolutionary approach, marrying traditional flowers with unusual and uncelebrated plants, like kale and chard. Was it your idea from the beginning to move away from traditional floristry?
For sure. When we first met we knew we wanted our style to be different, to be contemporary and interesting and perhaps make people think about flowers and floristry in general differently, as a medium for art as opposed to traditional, domed bouquets and arrangements.
Tell us about your new book, The Art of Starting.
The Art of Starting is a guide to starting and running a creative business, with no prior experience. It's the guide we wish we had when we started! We learnt a lot of things the hard way, often with the expense of time and money, and wished there was a guide to follow if you're starting out, to make it feel a little less like stumbling around in the dark and hoping for the best! This didn't exist, so we wrote it. It's a super practical guide, with chapters on branding and marketing but also finances and trademarking, so it aims to lightly cover all bases and to give you enough knowledge and confidence to do it yourself.
You're based in South London. Tell us about some favourite local spots of yours.
Ohh so many! Peckham Cellars is right by our studio and great for wine. Oona Beauty for lashes and tooth gems. Queens for hair. Forza Wine for food + drinks. Tola for partying.
Your favourite flowers to work with?
Iona loves dancing flowers like cosmos and butterfly ranunculus. Romy loves the stunning fire lily – gloriosa!
The best smelling flowers?
Sweet peas forever and always.
As well as working with more unusual flowers, you champion seasonal and British flowers. Do you enjoy this part of your work? Do you meet with growers? Do you grow your own flowers?
We love this part of our work, it's probably up there in our favourite bits. The joy when a British grower brings us something they've grown – a stunning Iris or a beautiful peony – is second to none. They are always ten times more beautiful than any Dutch-grown flowers. We talk to our suppliers all the time and have forged a really special relationship with Dulce + Flor, who last year started planting things for us that we wanted and couldn't get anywhere else. We're just starting to see them come to fruition in the form of some unusual iris varieties. Where else could you get that type of service and have that type of relationship?!
Name a country you haven't been to that you'd like to visit, and tell us why.
We're desperate to go to Thailand, mostly because of the food and the beaches, but also the beautiful flower culture they have there. Special shout out goes to the Mexico City flower market, which we are desperate to visit also. 
What would we always find in your fridge?
Wine! A chilled red or an orange. Romy likes her chocolate straight out of the fridge, so that would be in there too!
Your last supper on the planet?
Ahhh too hard to choose! Though we would probably be quite happy with anything off the menu at our friend's restaurant Rita's.
Tell us about your upcoming projects.
We have a summer full of weddings and events, which is great and so lovely to be back at full steam after the weird covid-y years! We're also looking at branching out into consultancy, though this is all very hush hush at the moment!
What would the dream Sage Flowers project look like?
We're still manifesting a huge, really dramatic Jacquemus runway, in a super stunning location. The dream!