CHIT-CHAT-EAU Episode No. 2: Liam Moore, Production Designer and Art Director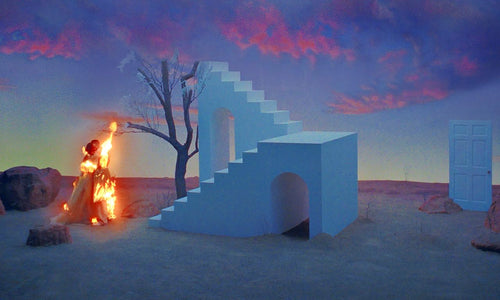 Welcome to CHIT-CHAT-EAU: Chateau Orlando's series of interviews hosted by our Co-Founder and Creative Director Luke Edward Hall.
Our second guest is Liam Moore, the Los Angeles-based production designer and art director who has worked with, among many others, Caroline Polachek, Billie Eilish, Dorian Electra and Lil Nas X.
Luke discovered Liam's cinematic work via Instagram a couple of years ago and felt instantly drawn to its theatricality and mood of surrealism. It's really no surprise, considering the pair share a love of creating worlds and imbuing their work with a sense of fantasy. For Luke, atmosphere is key, and Liam is a wizard of atmosphere, able to conjure up extraordinarily rich and detailed universes for his various clients.
Learn about Liam's inspirations, favourite films and flowers, and his take on living in Los Angeles below.
What kind of projects do you work on?
I design sets and art direct for various pieces of media – whether that be a music video, an editorial, a runway, a short film… I like keeping my options open but ultimately they're usually some sort of piece of visual candy. 

Tell us about your style... Is there a particular kind of atmosphere you enjoy creating, or multiple types, perhaps?
Definitely. I kinda went into set design and art direction with the intention of bringing a certain feeling to the table. I started in theatre design so I think I love bringing that mentality into my work, along with a feeling of surrealism or heightened reality. I think with all of my work I try and create something that feels nostalgic but timeless at the same time – like you can't place exactly where or when it's supposed to be. I also find myself using nature a lot in my work – idealised nature or environments that are being taken over by natural elements in an impossible way.

Which eras and movements do you particularly enjoy drawing inspiration from?
I think the surrealist movement plays a large role in my work, especially referencing paintings from that movement that evoke a sense of wonder, and how that's done through composition or intentional but surprising elements throughout an image. There's a very specific way of doing that where it doesn't just feel "random" that is hard to pull off. I also tend to reference, for lack of a better term, "Old Hollywood" methods of making things. Although it was a problematic era of course for many reasons, the approach to making things – the excitement of film being a new medium, Technicolor, having to do everything practically in camera. It creates a tangible magic that I feel like is endlessly exciting, and I like thinking about what's possible with that mentality in a contemporary lens. Lastly theme park design I tend to reference a lot – the kind of absurd but detailed world building you can find in rides and themed environments. I think there's a lot of stuff in there that's extremely engaging and bizarre, and they're often creating some sort of idealised or stylised version of a real environment which I find fascinating. 

What do you love about Los Angeles?
There's a lot to love and a lot to hate about LA – inherently with how sprawled it is, it has multitudes. But I love the myth of LA – that it lives in people's imaginations and kind of conjures these images of palm trees and fame and secrecy and sunshine. It's one of those things that if you lean into the myth you can kind of get lost in the idea of what it is. I love that it's surrounded by mountains but bordered by the ocean, it's this extreme environment with all these nooks and crannies so you can constantly discover it. I've been here about seven years and still find myself finding new areas or restaurants or shops or streets that I've never even heard of. It's also a city that's not afraid of being camp, it doesn't take itself too seriously – if you're in the right circles of course. 

Tell us about a favourite piece of furniture or object in your home.
I have a mechanical bird in a cage that I bought at a flea market a few years ago. It's so beautiful and strange – it makes little chirping noises and moves by winding it up. I just love automatons, and to actually own one and have it on my mantel just always brings me joy. And whoever I show it to is always just so enthralled by it, even though it's a technology from the 19th century.

Which ingredients would we always find in your larder?
As a native Angelean – cooking is something that is sadly a rarity for me. But you'll always find a cold bottle of champagne in the fridge.

Where in the world are your favourite places to visit?
This is tough! I love so many places I've gone, but am also constantly wanting to see new things and there's still so much left for me to discover. Recently I've been loving Barcelona – the mix of the Mediterranean climate and the ornate absurdity of Gaudi's work in that environment really excites me. I love going around Europe in general, and have also done many road trips around America that have been really rewarding. Especially one recent trip in Arizona – there's so much to see there and it's such a diverse landscape. There's these few strange utopian communities sprinkled throughout there that make it such a dynamic place to explore.

Your favourite novel, flower, song, colour?
The Picture of Dorian Gray by Oscar Wilde. I read this in high school and it permanently changed my DNA. Peonies have brought me a lot of joy recently. Like a more expressive rose. Song is almost too tough… Everybody Wants to Rule the World by Tears for Fears is one that never fails to evoke something in me. It's the ultimate profound bittersweet pop ballad. Recently, red. I just love how confrontational it is.
Which films do you watch over and over again?
Probably the ones that visually informed my work initially. The Wizard of Oz, Baz Lurhmann's Romeo + Juliet, Bambi, Blade Runner, Edward Scissorhands. Kind of classic films that are endlessly visually rich and detailed – it's important to know your roots.

Name a country you haven't been to that you'd like to visit, and tell us why.
I'm desperate to visit Japan. There's something about the futurism of somewhere like Tokyo and then the deep history of places like Kyoto that really appeal to me. The approach to aesthetics there and the relationship with nature is really beautiful and inspiring too. I just love extremes and it feels like Japan has that in abundance. 

Your last supper on the planet?
I honestly think I'd probably want a cheeseburger, fries and a milkshake. It's hard to get wrong, and always just so satisfying. 

Tell us about your upcoming projects.
I'm in a phase at the moment where the scale of my projects is starting to get larger and I want to start challenging myself more. So more narrative projects are in the future, as I definitely want to start applying what I've been doing into a feature length project. And then there's some side projects I've been speaking to people about. I love interior design and furniture, so I've begun designing some pretty wild limited furniture pieces with a collaborator of mine and we want to create a whole world around them. I also want to continue a miniature series I started in quarantine, where I create these little magical landscape dioramas. And a dream of mine is to design an opera set, so just putting that out there in case that starts aligning some stars.