CHIT-CHAT-EAU Episode No. 4: Fabio Cherstich, Theatre and Opera Director and Designer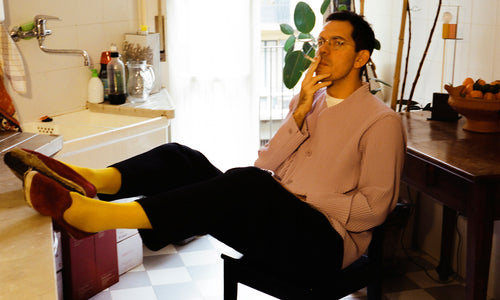 Our fourth guest is Fabio Cherstich, the Italian theatre and opera director and designer.
Luke came to learn about Fabio in the spring of 2021 after stumbling across the late American artist Larry Stanton's vibrant drawings online. He was instantly entranced, and a trail of discovery led to Fabio in Milan. Luke met Fabio in the city soon after, and here on a hot June afternoon Fabio showed Luke a selection of works by Larry, and revealed the miraculous story of his connection with the artist. Luke has been fascinated with Larry and Fabio's world since.
Learn about Fabio's work as a director and designer, his favourite Milan haunts, and the beginnings of his relationship with Larry Stanton below...
Il barbiere di Siviglia directed by Fabio Cherstich, photo by Luca Del Pia
You work on a mix of directing and design projects for the theatre and opera. Can you tell us about your most recent and current jobs?

I was trained as a theatre and opera director, but I have always thought of directing as an excuse to embrace multiple languages at once. If you think about it, in the theatre you work on the text, on the image on the body, on the composition. You tell stories. It is a language – the language of theatre – that lends itself to trespassing. That's why I'm having more and more trouble defining myself, and sometimes it's a problem: I'm currently designing two sets – for a play inspired by Thomas Ligotti's horror/weird texts, and for one of my favourite operas, Benjamin Britten's Turn of the Screw, which will debut at the end of May. In parallel to this I staged recently as director The Appointment (or, the Story of a Jewish Cock) based on Katharina Volckmer's novel which will now go on tour.

I am preparing a book and a documentary on two Italian historical artists, Lucia Di Luciano and Giovanni Pizzo, who are still quite unknown, and preparing several installations for the upcoming Milan Design Week. Just today I went to a site inspection for a curatorial project I am developing for Memphis Milano.

I'm also working on the idea of a second book about my beloved artist Larry Stanton; now that I'm officially in charge of his estate I have a big responsibility resting on my shoulders!

Where do you turn to for inspiration?

I am very fortunate to have many very inspiring friends who belong to different worlds and with whom I have a continuous exchange of information and content. I enjoy reading and asking lots of questions. I listen and memorise everything that I think will be useful to me as a human being and in my work. I have a passion for cataloguing even though I am messy. I love stories and those who can tell them and I always try to understand why I like a story not only because of its content but also because of its form, the form in which it is told. I read a lot, go out a lot, and drink a lot. This helps a lot with meeting new and interesting people, especially after 10pm.

How did you get involved with the work of the late artist Larry Stanton and his estate?

I emailed the website that bore his name because I wanted to buy a piece of art. It was 2018, and so I met Arthur Lambert, Larry Stanton's mentor who rescued his work from oblivion. Larry died in 1984. He was an extraordinary artist. When I first met Arthur in New York I promised him that I would help him restore Larry's work with the visibility and importance it deserved. Now we can say that my promise has been fulfilled. After two books, 6 personal exhibitions around the world, 3 group shows and a big project with Acne Studios and Visual Aids, Larry's work has finally emerged and for this reason Arthur has decided to formally give me the position of Director of the Estate of Larry Stanton. 
     Photo by Carlotta Manaigo for Apartamento Magazine
What is it about Larry's work that you find so appealing? His crayon drawings seem so full of life to me, and I just love the unique way he captured faces.

The strongest thing for me are the eyes, the look of the subjects. They are works of embarrassing visual strength, besides always being beautiful subjects. The strength, however, is also a reminder of a generation of kids decimated by AIDS. So the works are like a memorial, and when you see them all together it is impressive to think that 90 percent of the people portrayed died under the age of 40.

The story surrounding Larry, thinking about his friends and lovers, and his associations with other artists and writers such as Hockney, Isherwood and Mapplethorpe, is very engaging. The photographs taken during the 1970s and '80s, before Larry became unwell with AIDS, manage to capture a lost era, a lost generation. What was it like when you unearthed these images?

For me the biggest shock was finding in an archive box the only existing video ( I think), shot and edited by Larry Stanton of David Hockney making the famous paper pools in 1978 at Ken Tyler Graphics in NYC. It's an incredible behind-the-scenes portrayal of the most iconic works of Hockney – pure art history.
Will you continue to be involved with Larry's work in the future? Are you involved with other artists, or is Larry a special case?

I follow the work of many artists and much of my research as a collector is focused on the stories of unfairly forgotten artists from the history of art and the market. My vocation is to save them from oblivion, in short. It happened 8 years ago with Patrick Angus, then it happened to me with Larry Stanton. Apart from the two of them, the best known to the general public now, I still have a lot of stories to share but for the moment I'm too focused on Larry and I can't get distracted. There is still a lot to do for him! Parallel to the historical discourse I try to support young artists and my friends, I have more friends who are visual artists than actors. You see in the end I look for nourishment separately from my own language.
       Self-portrait with Flowers by Larry Stanton
You live in Milan. Please tell us about some favourite city spots of yours.

I like the restaurant Bebel which is very close to where I live, in Piazza Sant'Ambrogio. I like to have a drink at Bar Basso or an aperitivo at Cucchi. I'm not a big fan of Marchesi and I don't like at all Bar Luce at Fondazione Prada. I like the Bar Darsena, close to Navigli – very good jazz music after 10pm and a lot of drunk people. They sell alcohol and cigarettes until very late in the night. One of my favourite museums is the Casa Museo Boschi di Stefano and I'm a big fan of the guided tour at the Fondazione Achille Castiglioni. I recommend everyone to visit the Castello Sforzesco museum: the displays designed by BBPR in the mid 1950s are still breath-taking. Bar Quadronno for amazing sandwiches.

Where else do you like to travel to in Italy?

I like my hometown Udine in the north-east of Italy. I'm a big fan of Venice even if I'm disappointed that the Bauer Hotel is under renovation… such a shame. No idea where to have a drink after 10pm in town now…. Rome is messy but magic when you don't have to work, otherwise it is a nightmare. Chianti is amazing, especially lunch at Bar Ucci in Volpaia. I also like Palermo a lot – I've worked many times at Teatro Massimo. It's an amazing city and the food is great.

Your favourite novel, flower, song, colour?

I recently finished an amazing book by Mircea Cartarescu called Melancolia. One of the best books I've read in recent years. I like irises. I don't have a favourite song or a favourite colour. But I like yellow and violet.

What would we always find in your fridge?

Coffee and milk.

Your last supper on the planet?

Without any doubt: PIZZA

Tell us about your upcoming projects.

See the first answer... I've already talked too much, as usual.