CHIT-CHAT-EAU Episode No. 3: Gwenno, Musician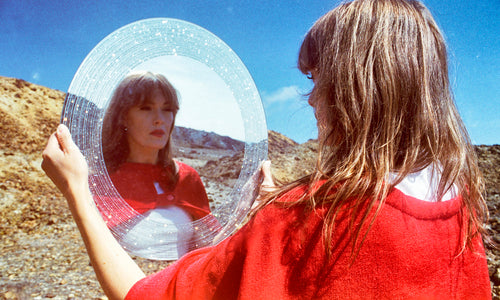 Welcome to CHIT-CHAT-EAU: Chateau Orlando's series of interviews hosted by our Co-Founder and Creative Director Luke Edward Hall.
Our third guest is Gwenno, the Welsh musician whose third album, Tresor, was released in July 2022 to critical acclaim. Gwenno, described by the Guardian as 'a one-woman Celtic revival', conjures music that is deliciously hard to define. Psychedelic pop? Psych-rock? Rustic electronica? Whatever labels get given to Gwenno's music, the mix is beautiful and strange, haunting and accomplished.
Tresor is the first album not largely in English to be shortlisted for the prestigious Mercury Prize, and although of much less prestigious note, it became the soundtrack to Luke's 2022 summer, in particular the three trips he took down to his beloved West Country. Here, among the jagged rocks and lush green valleys, with Tresor blaring through his headphones, a seed of inspiration for a future collection was planted...

Learn about Gwenno's inspirations and the creation of Tresor, along with her take on Cornwall and its landscapes, people and mythology below...
Portrait by Clare Marie Bailey
Can you tell us about your most recent album, Tresor, which is sung almost entirely in the Cornish language of Kernewek? How did the project come about?
Tresor is my third album, and my second almost entirely in the Cornish language and I'd been wanting to dig a bit deeper into my experience using the language day-to-day with my son, and was thinking far more abstractly and emotionally about my connection with Cornwall too. I'd come across the work of Ithell Colquhoun and Monica Sjöö and was really inspired by their physical relationship to the landscape and the way that fed into their work and being a massive overthinker I wanted to aim at being intuitive with my songwriting and giving into my surroundings rather than trying to overcome them with rational thought.
What has been your experience of Cornwall, both before and during the making of the record? I read that you spent time in St Ives writing music. What was that like?
Going to St Ives in 2020 had a huge impact on the album, and I knew it would before I got there. Cornwall had, up until I had made my previous Kernewek album, Le Kov (which came out in 2018), been a faraway place in the memories of my childhood home, a mythical place full of folk tales and songs and my dad telling us all about the place, its history and its people. That was a really great place to start but I was itching to grow through the language and to get to know it myself as an adult, and that has been a huge motivation for me with my musical explorations. Writing Le Kov led me to meet some fantastic Cornish artists, and writing Tresor was about trying to understand how it would feel to be in Cornwall myself and what my place in it was.
I love all of the songs on the album but I've been playing a certain few over and over again. Keltek and Men an Toll I'm really drawn to. I think this is because I love songs that manage to capture the magnificence of nature so brilliantly. They're majestic songs but there is also a kind of ominous undercurrent present to my ears. And when I think about the crashing waves down in Cornwall for example, it's a similar feeling. Does this chime with you or am I on an odd tangent?
You're absolutely spot on! I'd say the song Tonnow fits into that category too in that it's a song about the sea, although it isn't as purely electronic as the ones you mention. Men an Toll in particular was a song that I completely let go with, and I wrote it before ever visiting Men an Toll, and then the site ended up on my album cover, and as my seven-year-old son pointed out the other day, it's a fertility stone, which I'm hugging, and now we have a baby due in February! So this whole album has been about following instinct and working it all out later!
And carrying on from the above, I love how you interweave synthesisers and electronic sounds into the songs on Tresor. These might not be sounds people instantly associate with the Cornish landscape but they capture the landscape beautifully. Was this intermingling an important part of making the record?
It was and it's the way I've written the past three albums really, in that I'm always recording sounds and noises, chopping them up like a cook, and then rearranging them, that forms the basis of what I give Rhys (Edwards my collaborator and producer) who then adds even more layers which creates what I hear as a Celtic landscape then to wrap around the songs. I'm really inspired by Aphex Twin who has captured the Cornish landscape through sound so perfectly but I'm also really interested in the song in quite a classic way and feel quite strongly that it still holds such incredible value if you manage to get it right, so I'd say that my music tends to be a combination of those two contrasting elements to varying degrees.
Portrait by Clare Marie Bailey
Tell us about some favourite Cornish spots of yours. Beaches? Pubs? (I'm sure you have to be careful. Friends I have in Cornwall seem to guard their secret spots with their lives!)
I don't have particularly secret spots unfortunately but I do love St Ives in winter, in fact the whole of Cornwall in winter is so special. Zennor is another great spot – The Tinners Arms, Men an Toll, so many sacred sites that seem to transform when there's no-one around. I also loved Redruth when I visited there recently, a proper town that really reminded me of Merthyr in Wales in its rich industrial history.
And how about in Wales, your birthplace?
Ynys Môn (Anglesey) is wonderful, and reminds me a lot of Cornwall. Bryn Celli Ddu is a very special Neolithic site that's definitely worth a visit if you're ever in the area. Llanddwyn has a wonderful beach which is also big enough for a crowd, when they inevitably arrive!
Your favourite novel, flower, song, colour?
Favourite novel is such a difficult one! I read a lot and I'd be almost too unsure to commit to a favourite at this point knowing there are so many incredible books out there which I've yet to read... Favourite flower – I have grown fond of hydrangeas over the years, they were a flower that I almost disliked (if you can do such a thing) initially as they are so common and convenient, but having been an avid gardener over the past few years there is something to admire in their robustness, and they are beautiful when dried or when they're fading outdoors. Favourite song – gah! another difficult one, you will have to ask me in a few decades when I've heard more! Favourite colour – it's definitely blue.
Can you tell us about the film you wrote, directed and produced that sits alongside Tresor?
I always had the idea of creating a short film to accompany the album from the moment I started writing it, mainly as all of the songs felt like very clear 'scenes' which I wanted to translate to film. I love the work of Maya Deren and how everything she does holds such strong symbolism and that she performs in her own films, and the fact that they are short films too really inspired me to want to make my own. The script I wrote is based on the songs of the album so it made that part quite easy, I then came across the work of a wonderful Anglesey filmmaker, Clare Marie Bailey, who shoots everything on Super8 and got in touch to see if she'd be in interested in shooting it, and once she agreed things started to fall into place. I had loved Lally MacBeth's costumes that she was posting online and was a huge fan of her aesthetic and the Obby Oss hat that she'd made so I asked her to make me one in red, which then became the 'spirit' of the film as it were. I then got going on the production design and casting, and basically organised it all, and it was so much fun! I love any sort of collaborative effort so it really was such a joy to do from start to finish and I'm so pleased with how it turned out.
I spent some time down in Lamorna back in the summer and the weight of the history and mythology of the area felt heavy, in a wonderful way. I kept seeing Aleister Crowley hidden behind a rock formation, or the Bucca emerging from dark waves. It's no secret of course that Cornwall has a very magical atmosphere. Do you think so, too? How did these mythical, magical elements come into the making of the record? What was the process like, combining these ancient themes with other topics such as motherhood?
Like I mentioned earlier, all of that mythical and magical elements that are so intertwined with the Cornish landscape were such a huge part of my childhood and that has become the basis of everything that I do in the Cornish language, so the elements that I create that happen to fall on top/seep in below of that are an extra layer of thought and atmosphere I think. There's always this tension in Cornwall, as there is in Wales, to get that balance right – on the one hand between honouring the people who live and work in the landscape, acknowledging how myth has been formed by those same people, and on the other hand, really giving in to those very real magical elements that happen to you in those landscapes too. Motherhood felt like a subject which naturally combined those elements, of being grounded in the miracle of life.
Name a country you haven't been to that you'd like to visit, and tell us why.
Armenia, and in particular the capital city Yerevan. I'm such a huge fan of Sergei Parajanov and I really want to visit his museum and to explore the city and the country.
Your last supper on the planet?
It would need to be an extravagant dinner party, with friends and guests who are mostly not alive anymore for one final soirée. I get so inspired by people from other eras and always feel they're with me in my work so this would be a perfect way to catch up in person!
Tell us about your upcoming projects.
I'm writing as much as I can before the baby arrives (and my brain stops working!) so the next album is probably the thing that I'm thinking about the most at the moment. It's fantastic to get to your fourth album I think, you've settled into some sort of rhythm but still have so much to explore.