CHIT-CHAT-EAU Episode No. 1: Florence Knight, Author and Chef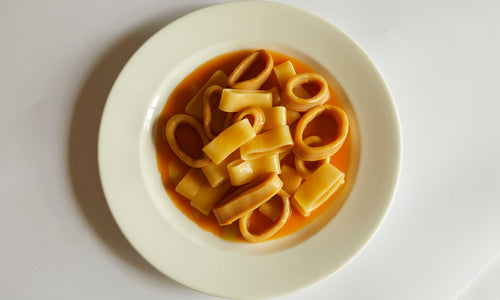 Welcome to CHIT-CHAT-EAU: Chateau Orlando's new series of interviews hosted by our Co-Founder and Creative Director Luke Edward Hall.

Luke wants to strike up conversations with people that he admires, from fellow designers and makers to chefs, musicians and writers. He wants to know what makes them tick and what's in their cupboards, about their rituals and their passions. Expect a new episode every few months...
Photo courtesy of Sessions Arts Club
First up is Florence Knight, author and head chef at Sessions Arts Club, the London restaurant Florence opened in 2021 with artist Jonny Gent and a favourite dinner destination of Luke's. Florence used to run a Venetian restaurant called Polpetto on Berwick Street in Soho. It was another favourite of Luke's, in part due to Florence's legendary maple tart, which he'd order every time he visited. We are, therefore, delighted that she has agreed to be our first guest.

Read on and discover Florence's favourite markets, vegetables, puddings and pasta shapes...

Describe your perfect breakfast.

I work really long hours and I tend to miss dinner so I always have a big breakfast prepared by my husband. Normally starting with pinhead porridge, coffee and a full fry up. Sometime he makes Moroccan pancake Beghrir, which he has mastered, or if he's feeling lazy we walk down to Dean Street Townhouse with the children in their pyjamas for the best scrambled eggs in Soho.

Who inspires you?

I don't think it's who but what. I tend to look for inspiration through my suppliers, ingredients, buildings and places. Driven by a mad search for perfection.

Which ingredients would we always find in your larder?

Eggs, Marmite, anchovies, Pukka fennel tea, Monmouth soft brown sugar, Tiptree ketchup, bicarbonate of soda, baking powder, plain flour, Dijon mustard, capers, Heinz beans, semolina, Volcano coffee beans, maple syrup, marmalade, honey, Malden salt.

Where in the world are your top markets to shop?

I've picked up some real treasures in the Marrakech Souk and beautiful pottery at flea markets in Puglia on my holidays. Tsukiji Market was incredible in Japan. I'd love to spend more time there.

Your favourite novel, flower, colour, song?

Cider with Rosie by Laurie Lee; white anemones with red flecks (my mum's favourite and now mine); always blue; too many to pick from:

May You Never by John Martyn
Nobody Told Me by John Lennon and Yoko Ono
Pata Pata by Miriam Makeba
If You Want to Sing Out, Sing Out by Cat Stevens
Too Much Time by Captain Beefheart
Melodies by Lord Echo

What's your go-to snack?

Drumstick squashes, mint Aero, Smiths scampi fries.
Photo courtesy of Sessions Arts Club
Top vegetable?

Celery is always underrated and often forgotten. Love it braised in wine, stock, butter and finished with capers.

Your favourite place to visit in the summer and why?

Rhododendrons at Ramster Gardens are overwhelmingly beautiful with vast bushes of brightly coloured flowers and a handkerchief tree. I've been going every summer since a child and now take my own children.

The best pudding...?

To eat at home it has to be hot lemon pudding with a runny centre and plenty of cream.

Do you have a favourite food memory – a meal that particularly sticks in your mind?

Eating hot fish and chips on our laps with the fog rolling in over us with my family at Deal last Saturday afternoon.

You can only eat one kind of cheese again for the rest of your life. What's it to be?

Coolea is my favourite, it's rich with hints of caramel and salty crystals. I live dangerously close to Neal's Yard dairy and couldn't imagine life without cheese.

Name a country you haven't been to that you'd like to visit, and tell us why.

I got to know Sardinia through a chef and now very good friend, it's such a special place. I haven't made it to San Pietro, a small island off the south west coast which looks incredible.

Which kitchen tool could you not live without?

Bialetti coffee pot, Victorinox tomato knife, Microplane zester/grater.

Your last supper on the planet?

Steak and eggs. Or spaghetti pomodoro.

And finally, your favourite past shape? (I know there's that whole thing about shapes going with their correct sauce, but still, mine's paccheri!)

I tend to prefer dried pasta, normally something like anelletti slow cooked in tomato sauce or fregola cooked in bisque with clams – a risotto of sorts.