CHATEAU-BIBLIO Episode No. 1: Luke Edward Hall, Chateau Orlando Co-Founder and Creative Director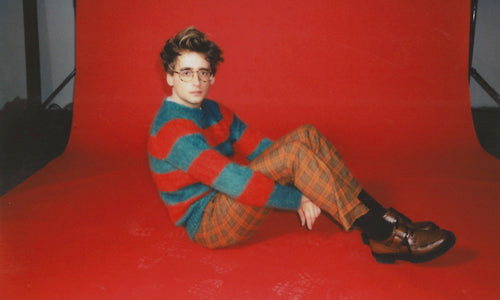 Welcome to CHATEAU-BIBLIO: Chateau Orlando's new series of book-focused interviews hosted by our Co-Founder and Creative Director Luke Edward Hall. 
It's common knowledge that you can tell a lot about someone from the books on their bookshelves. Plus, you know what John Waters said about people who don't have any in their homes... With this series Luke plans to interview some of his favourite people with the hope of learning more about their reading habits, best-loved characters and desert island books. For Luke, the books he loves he holds close like talismans because they are full of inspiration, power and magic. Expect a new episode every few months...
To test drive the format and get the ball rolling, first up is, well, Luke himself.
What's your all-time favourite book?
An extremely difficult question... In terms of novels, I think I will have to go for Donna Tartt's The Secret History – I love the autumnal Vermont setting, the dark Dionysian themes, and the complex, rather flawed characters. It's such a stylish, cinematic and atmospheric novel. I reread it every couple of years.
Your favourite writer?
I'm a huge fan of Denton Welch. Welch's life was cut short: he died when he was only thirty-three, but he produced some brilliant novels and short stories. I love his diaries in particular. The way he wrote about small everyday details, his lunch, for example, was just... remarkable. So incredibly vivid. A close attention to aesthetics, be it in human behaviour, clothing, art, architecture, jewellery, or antiques, is a recurring theme in his writings.
A recently released book you would recommend to a friend?
Recently I loved Alice Winn's In Memoriam. It's a love story, a pretty shattering one, between two soldiers in the first world war. I bang on about The Offing by Benjamin Myers to anybody who will listen all the time, too. It's about a friendship that transcends age, class and gender barriers. Set over a summer in the 1940s, it follows 16-year-old Robert Appleyard as he leaves his mining village in the north of England with only a rucksack and a thirst for adventure. Soon he comes across Dulcie Piper, a magnificent, bohemian woman three times his age who lives alone in a cottage above the sea. They form a friendship: Robert gardens for Dulcie, whilst she introduces him to poetry and lobsters and the art of living life well, with authenticity and panache. (Key themes here at Chateau Orlando!)
Tell us about the books on your bedside table.
I have three piles on the go – some books I am making my way through, others I might just dip in and out of every now and again. It's a jumble, but it is necessary to be surrounded by many books. I've got a few research tomes on the go, thinking about our autumn/winter 2024 collection; one I'm in the middle of is Venice and in the Veneto with Lord Byron. What else? There is Splendours and Miseries: The Roy Strong Diaries 1967–1987, which I'm very much enjoying. Sir Roy has served as director of both the National Portrait Gallery and the Victoria and Albert Museum, and his diaries are delicious. There is also Hotel Splendide by Ludwig Bemelmans, which I finished recently and adored, and Rupert White's Magic & Modernism, which throws light on the links between art, folklore and tourism in Cornwall, as well as the Celtic revival and the occult.
Which books are you looking forward to reading this summer?
I've just started Diarmuid Hester's Nothing Ever Just Disappears. The author Robert Macfarlane describes the book as "an exploration, celebration and reclamation of queer lives within their spaces and landscapes, it roams from the cloisters and locked gates of Cambridge to the hilly streets of San Francisco, the apartments of New York City and the nuclear desert of Dungeness's shingle-shore, where Derek Jarman created a world on the margins and of the margins." So far, it's very up my street. I'm going to take Dance Till the Stars Come Down by Frances Spalding away with me on holiday – this is a biography of one of my favourite artists, John Minton.
Your favourite cookbook, art book, travel book?
I'm lucky to have two cook-cum-author friends who specialise in excellent Venetian and Tuscan recipes – Skye McAlpine and Amber Guinness – we cook from their books all the time. Art book is a hard one: I love to collect old and rare art, photography and design books. Instead I'll pick a new addition: I just bought a job lot of over ten books by the photographer Duane Michals, and I'm finding them thoroughly inspiring. Michals is known for adding handwritten text to his images – it adds another dimension to the photography and the effect is poetic. As for travel book... I'm a big Laurie Lee fan, particularly because he grew up close to where I now live in the Cotswolds. Lee's memoir As I Walked Out One Midsummer Morning is a beautiful account of an extraordinary journey... As a young man Laurie walked from Gloucestershire to Spain with only a blanket and a violin under his arm. He spent a year crossing the country; only the outbreak of the Civil War put an end to his trip.
Your go-to comfort read?
It has to be The Lord of the Rings: I am a sucker for an intricate fantasy universe. Give me dragons and wizards and magic rings. Tolkien is the master, of course, and it's no secret that I am a mega-fan. Other books fit into this category, such as The Once and Future King by T.H. White and Mary Stewart's The Crystal Cave – more great fantasy epics.
Do you have a favourite bookshop?
Wherever I travel to, I go on the hunt for excellent independent bookshops, particularly those that specialise in subjects I'm interested in, and, of course, secondhand bookshops. I love nothing more than spending half a day in a dusty old shop, rifling through shelves. Friends and family laugh because I can sniff out a good bookshop within any given radius. It's like a sport. Some favourite haunts include: Treadwell's in Bloomsbury for books on folklore and magic; Hartley Wintney's Beaux Books for excellent old and rare tomes on art, design, photography, gardens and interiors (they have an online shop too); Three Lives & Company in New York City's Greenwich Village, and Barton Books in Penzance, Cornwall, which specialises in books on art and nature. I source loads of my books from eBay, too: recent purchases include a nice copy of Horace Walpole's The Castle of Otranto and Gerald Gardner's High Magic's Aid.
If you were to write a novel, what would it be about?
I so wish I had the ability to write a novel, but I don't think I am wired in the right way... Therefore, I am quite happy to leave the magic to others. If I was able to write one... Well, it'd have to be a love story, with some sort of tragic yet romantic edge to it, probably with a pastoral setting. But with mythological creatures and sorcery? I'm thinking... King Ludwig II of Bavaria meets Maurice meets Tolkien. That's the mash-up I'm really pining for.